Y-warm project was launched in Beijing, China, in 2013, successfully developed in lab in 2017,In 2019, the first mass production line was built;2020, patent was granted and application verification was completed;In 2021, Y-Warm material was officially promoted into market and got excellent feedback by both brands and users.
A cold-proof clothing made by Y-warm, comparing with traditional down jacket, it drops 80% thickness, has 5 times thermal insulation efficiency.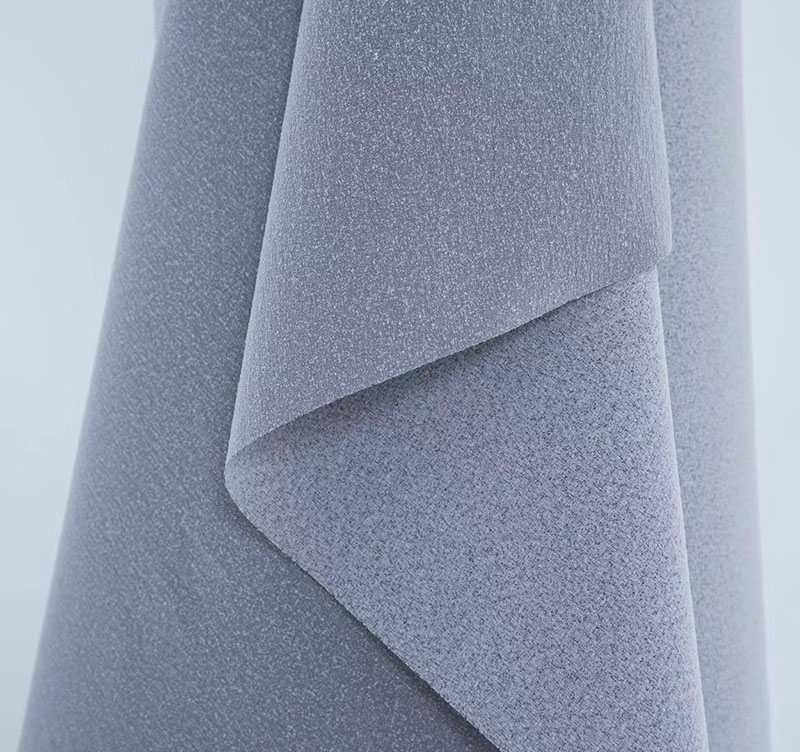 Y-warm is made by environmental friendly, functional polymers and backing material. This technology is first successfully researched and developed by us, and we already applied Chinese and International patent.
Thermal conductivity of Y-warm is 0.00824w/m.k, which can dramatically decrease heat conduction and energy exchange. Y-warm has good moisture absorption and fast drying ability, water-vapor resistance value is 16.422(㎡•pa)/w, which can easily permeate out sweat generated by human body. So the clothing made by it has better wearing experience and thermal insulation efficiency.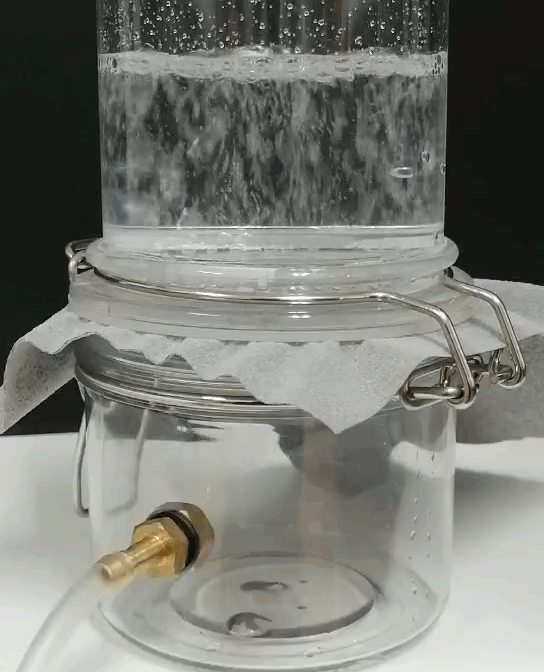 Water-vapor resistance test report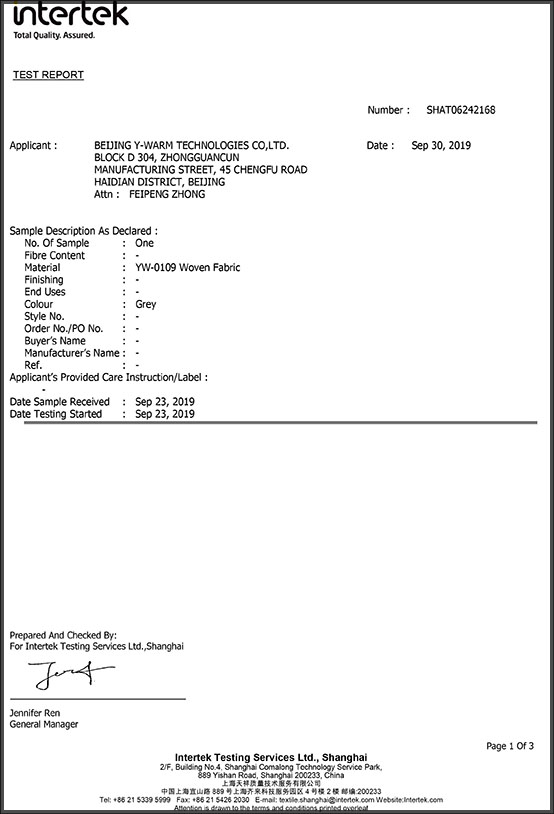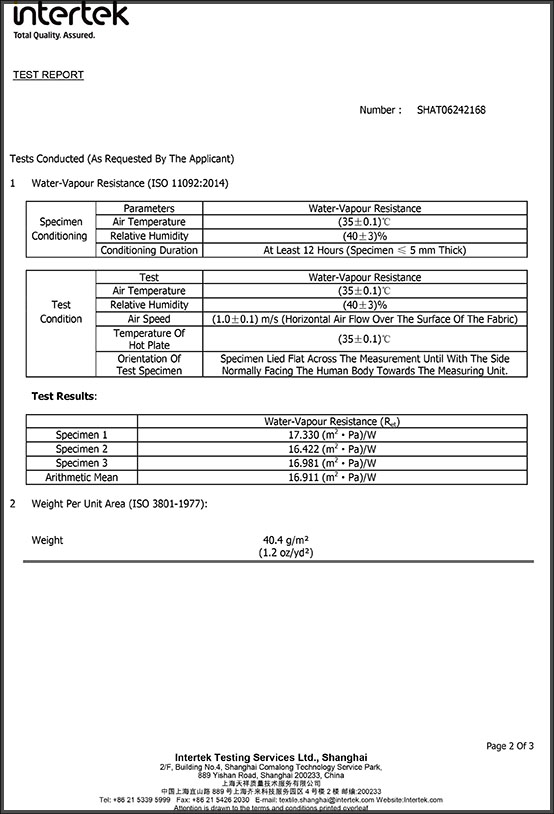 Y-warm---Revolutionary thermal insulation material for clothing
Y-warm increases 5 grades thermal insulation property, and changes method of garment thermal insulation from adding thickness to technology upgrade.
It makes winter garment lighter, thinner, warmer and more fashion.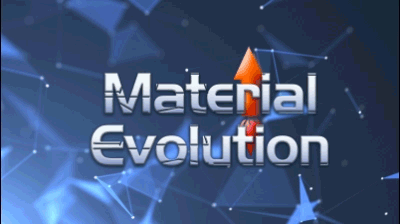 1 mm has better thermal insulation than 5 mm
After a lot of experiments and actual wearing experience, a cold proof clothing filling with 1 mm thickness Y-warm has better thermal insulation property than 5mm thickness down jacket, and Y-warm material's good water-vapor permeability makes winter clothing more comfortable to wear.
Use less resource, improve energy efficiency。
make the sky more blue, the water cleaner and living environment better。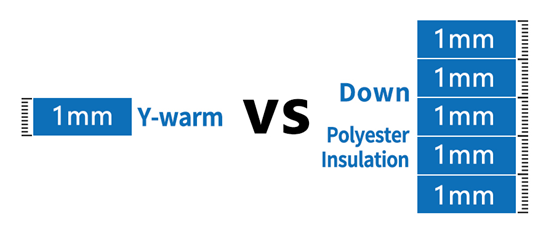 Winter garment thickness decrease 80%
If use Y-warm as thermal insulation material for winter garment, can decrease 80% thickness, increase 5 times warmth efficiency.
Fabric doesn't need down-proof function, and production process doesn't need separate seam, which make designer have broader choice of material and possibility for more fashion designing.
Create new blue sea for winter fashion
At first glance in shopping mall winter garments are all down jackets which makes consumers generate aesthetical fatigue.
Successful launch of Y-warm enables garment enterprises to develop more categories of cold proof clothing, exert design and innovation ability of each garment enterprise, change market competition from price to R&D competition, then alleviate vicious market competition.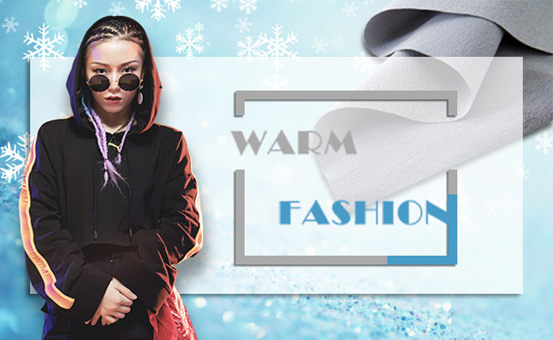 Y-Warm is very light
Heavy means burden, pressure and perplexity. Unit weight of Y-warm is only 43 g/sqm which makes you wear more comfortable, easier to carry, and suitable to wear for three seasons: later autumn, winter and early spring.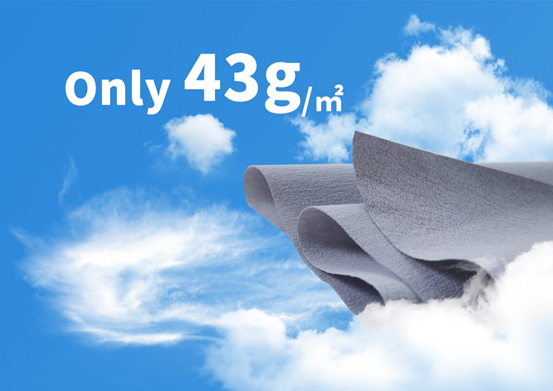 Suitable for industrial applications in between -50 and 150 centigrade
Y-warm is suitable for industrial thermal insulation applications in between -50 and 150 centigrade. The features like energy saving, environmental friendly and the only multi-industry applicable thermal insulation material in the world, make it have very positive significance for promoting reduction of carbon emission.
Reduce environment load Y-warm shoulder heavy responsibilities
Safety is top priority, environmental friendly means sustainable development.
The whole process of Y-warm material production only use water-based material, final product VOC test result is "ND" level, additionally water vapor is recycled, so the whole process is almost zero emission. Reduce burden of the environment, make a better life.