Y-Warm material can pass REACH SVHC test
Time: 2020-03-01
Author: 叠加态
Page View: 516
Innovation of Y-Warm does not only come from its excellent thermal insulation property, but also because it's very safe, environmental friendly and can effectively reduce carbon emission.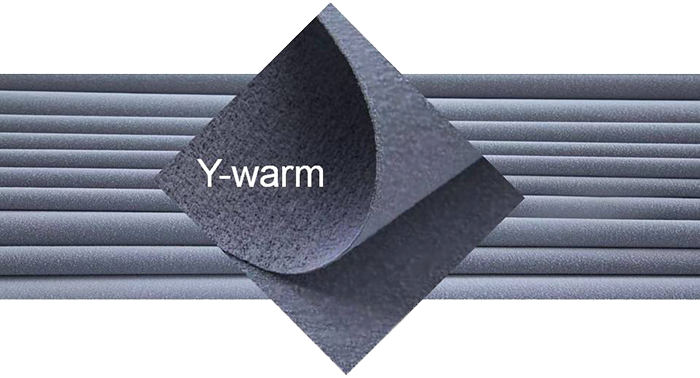 What is SVHC?
SVHC, "Substance of Very High Concern", refers to any substance that has adverse effects on human health and the environment. The following substances may be included in Annex XIV according to Article 57 under REACH.
The 1st batch of SVHCs: 15 substances were included in the Candidate List for authorization under REACH Regulation by ECHA on 28 Oct. 2008. REACH SVHC list is not a static list and it is updated frequently. Up to 16 Jan 2020, there are 205 substances on the SVHC candidate list.
The substance in SVHC list in some cases may have very serious or irreversible effects on people or environment, so it's very necessary for textile product to get SVHC authorization.
SGS test report

What is Y-warm
Y-warm is a kind of brand new flexible thermal insulation material which was firstly developed in the world by a Chinese team. This project was launched in Beijing, China, in 2013, successfully developed in lab in 2017, and achieved mass production in 2019.
Y-warm is made by environmental friendly, functional polymers and fabric, it has extremely low thermal conductivity which can efficiently decrease heat conduction and energy exchange, thickness is around 0.7 mm, width is around 150 cm, soft handle, it can be used for thermal insulation in several industries and applied temperature range is from -50 to 150 centigrade. The technology has been patented both in China and internationally.
Thermal conductivity
Y-warm challenges the limitation of existing testing equipment and methods, none of them can give absolute value of thermal conductivity of it
Thermal Conductivity Tested by Different Methods
Used for clothing thermal insulation
Good water-vapor permeability
Fast liquid penetrability
Y-warm got the award "TOP 10 of the FIBERS & INSULATIONS category" in ISPO Munich Textrends 2021 to 2022.
Y-warm Medal
Beijing Y-warm technology co., ltd. was established on 13th Jun. 2019. Main business is research & development, production and sales of thermal insulation material.
Y-warm is a kind of flexible thermal insulation material, it's thermal conductivity is extremely low, which can dramatically decrease heat conduction and energy exchange; additionally it has good moisture absorption and fast drying ability, which can easily permeate out sweat generated by human body, so the clothing made by it is more comfortable, lighter and has better thermal insulation efficiency.
Y-warm's applied temperature range is from -50 to 150 centigrade, so it can be used as thermal insulation functional material in more than 20 industries, such as garment, tent, automotive, train, airplane, wall paper and curtain etc.. Y-warm is a kind of revolutionary material which can upgrade industries, save energy and protect environment.